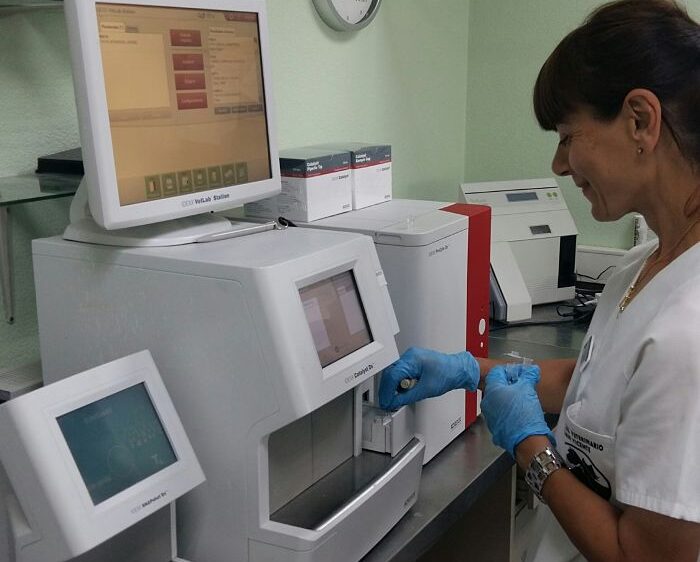 In our veterinary Hospital, we offer a service of laboratory, unique and private, equipped with the latest technological advances, that allows analyze all kind of samples and obtain results of form fast and effective, to offer a service of quality to our patients.
Have in our facilities of a laboratory and of a technical of laboratory specialized us allows make diagnoses and treatments more rapid and effective.
The results obtained with the analysis in our laboratory service provide us with valuable information on all animals. In addition, This allows us to achieve maximum effectiveness when deciding what is the most recommended and treatment adapted from custom for the recovery of our patients.
Veterinary analyses are carried out in the laboratory, blood, urine, fecal matter, peritoneal fluid, cerebrospinal fluid, synovial fluid or any type of sample, essential to know exactly what kind of diseases can have any pet. Both analysis through automatic analyzers and Pap smears and cultures and antibiograms allows us to confirm or rule out the presence of certain diseases. From a sample of blood we can assess the red and white series with a complete blood count and diagnose if there is anemia or signs of infection. We also have a biochemical Analyzer and electrolytes, to make different profiles and rating depending on the animal bodies. Serologies let us know from a blood sample if the animal suffering from infectious diseases such as parvovirus, distemper, ehrlichia, Toxoplasma, haemobartonella, Borrelia, anaplasma...
We have the means to perform a test or proof of leishmania at the time and thus be able to apply the vaccine safer.
We also work closely with renowned national and international laboratories, allowing that shipping and analysis of specific samples is done in a professional and personalized way. We performed genetic analysis to confirm or rule out the presence of congenital diseases, like for example, the MDR1 gene mutation associated with intolerance of different drugs.