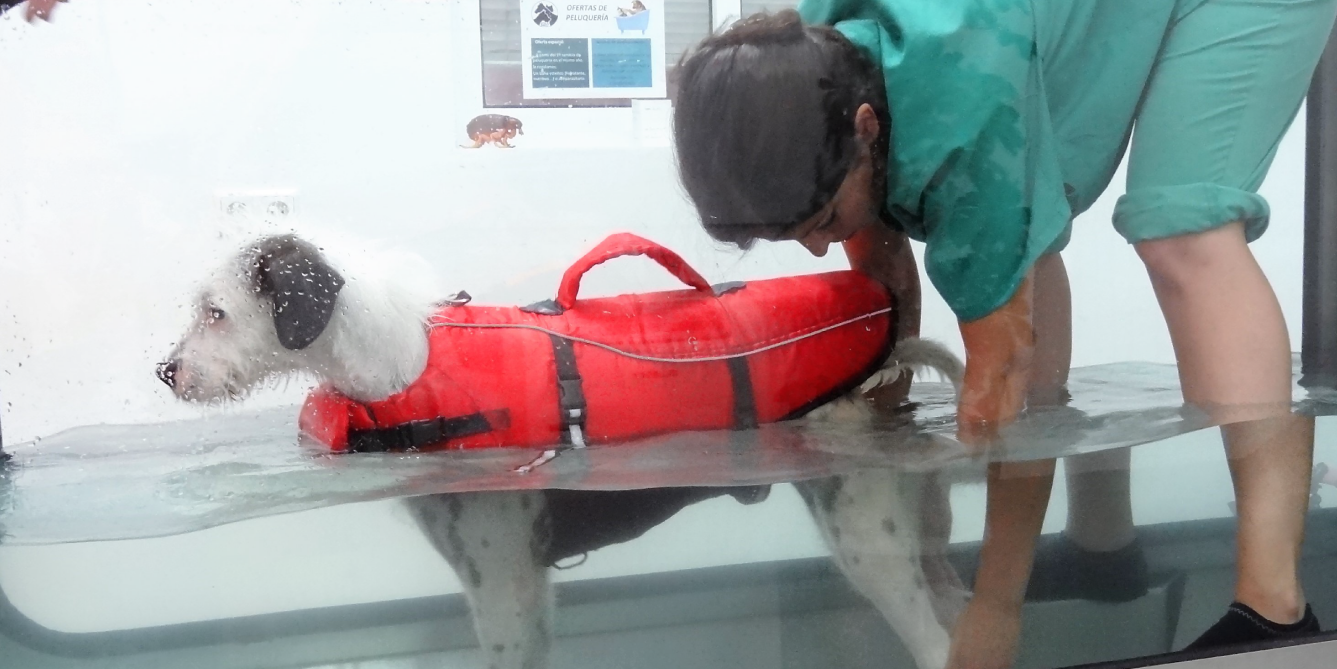 As in the case of persons, physical therapy is very present in the animal world. Canine physical therapy is essential for dogs that have been operated can recover in the shortest possible time and with all the guarantees. Thanks to this technique, It can reduce recovery time.
Canine physical therapy within different therapies may include hydrotherapy with tape or treadmill, laser, electro-stimulation, waves of shock and even massages. These techniques, in certain cases, they are essential to achieve an early recovery of the dog after musculoesquletica injury, especially after going under the knife. Our facilities, prepared for the rehabilitation functional of small animals, they have underwater treadmill, gym, TENS/EMS, thermotherapy, shock wave, etc.
Through our clinical team we design plans customized for rapid recovery of function of patients with locomotor and/or neurological injuries. Our specialty is the rehabilitation of disorders of the spine, such as canine disc herniation.
In this service we try to both patients in our facilities, as referrals from other veterinary clinics.
Canine physical therapy, What dogs is it the target?
Is especially recommended for dogs that have lost mass muscle for any reason or that have been subjected to a surgery, as for example in the vertebral column. It is also important for dogs suffer osteoarthritis and other degenerative processes, Since you can slow down the advance of these pathologies.
Rehabilitation seeks to relieve the aches and pains that can feel after an operation, Although they do not say it verbally, also feel it. In addition seeks to minimize atrophy in muscles, tendons, cartilage and ligaments, as well as reducing inflammation, seeking at all times to provide the maximum welfare of animals.
Depending on the physical condition of the dog, Canine physical therapy sessions may have different durations and it is better to receive several sessions depending on the injury and the clinical trial, so the recovery time will be exponentially reduced.
Our recommendation that the dog is more relaxed during the sessions of physiotherapy and canine rehabilitation, is that the owners are present. In this way, You can learn different techniques that may apply themselves and the animal will have more confidence. We must not forget that in addition to the treatment received, the role of the owners is very important in their recovery because part of that process is closely related to the care that the dog in the household receive.
We have bonds of physiotherapy for several sessions, Depending on the length of the rehabilitation period, they will help you reduce the total cost of this service.