---
The dangers of dogs on the escalators
Society advances and, Luckily, they are increasingly, shops and department stores that allow us entry with our furry friends. We explain the dangers of the escalators and dogs …
If urge to go shopping with your dog, You must take into account the risk posed for them to go up or down an escalator, especially for children.
The mechanism of an escalator, and to be more concrete Combs that exist at the beginning and at the end of each course, they act as a blade and can cause major disasters at the feet of our furry friends.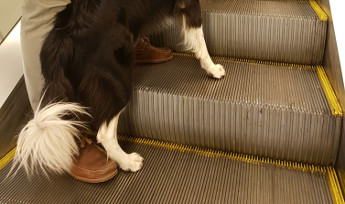 Our service of emergency Veterinary Hospital San Vicente frequently meets courts, alterations in the nails and serious lacerations by this type of neglect. Sometimes it becomes necessary the amputation of one or two phalanges.
Our advice is that whenever you can you use the elevator. If there is no elevator, the best option is to catch it in arms, your friend always appreciate you and you will avoid many scares. In the case of a large dog, the best option is to not go up the escalator, Since you can harm you when loading in arms or you can cause an accident.

It is very nice to go shopping with our cosmopolitan and furry friend, but accidents like these can prevent them with knowledge and responsibility.
If you need any clarification about the escalators and dogs do not hesitate to consult our vets, We will be happy to help you.