---
Thanks Sila hound dog
"Sila" is a dog
🐶 of 18 years was treated by the Veterinary dentist Veterinary Hospital San Vicente, Javier Cucurella, grave of stomatitis.
We share with you a video with the before and after, SEE VIDEO junto con las palabras de agradecimiento que escribe su familia, that tell us that has changed his life and is now happy … they thought that their age was the guilty be so quiet and have no desire to walk, but they have seen a big change!
Gracias siempre a vosotros por confiar en nuestro equipo clínico y poder ayudaros a vosotros y a "los vuestros"
"Soy María José, la dueña de la podenca de Albacete a la que en abril atendiste por una estomatitis. Te comenté que había dado un cambio espectacular y quería que lo vieras. Te adjunto dos fotos y videos en los que puedes comprobar el "antes" and the "ahora". Es increíble. De pasarse el día acostada y no querer salir a la calle, a ponerse la primera en la puerta cuando ve que nos preparamos para salir. Hasta los paseos los hace corriendo, como podrás ver (espero); es que parece otra perra. Le has cambiado la vida.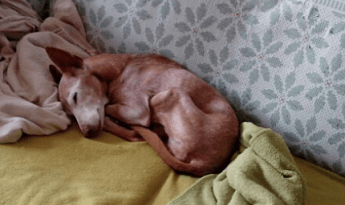 Estoy muy contenta, aunque me siento un poco mal por haber atribuido su inactividad a su edad (18 years) y no darme cuenta antes de la gravedad del problema que tenía en la boca. Le podía haber ahorrado unos cuantos meses de sufrimiento.
Pero bueno, lo que importa es que ahora es una perra muy, muy feliz.
Gracias por todo, Javier.
A greeting
Recordad que aunque los perros se hagan mayores, la edad no justifica que estén tristes y apáticos, que si se le dan los cuidados necesarios como en este caso pueden tener una gran calidad de vida. Además las revisiones periódicas nos ayudarán a detectar problemas a tiempo e instaurar tratamiento en caso de ser necesario.