---
Stinging jellyfish to dogs? What would he do if I suspect a bite?
Spain has more of 8.000 kilometres of coastline, making it a perfect holiday destination. Luckily every time there are more beaches for dogs and they enabled, just like us, they are an easy target in these species. The stings of jellyfish in dogs should detect in time.
The Mediterranean coast is invaded, every three or four years, por plagas de medusas. Las causas para esta proliferación se deben principalmente a la intervención del ser humano, entre estas causas podremos incluir la sobrepesca de especies que comen medusas, el incremento de la temperatura del mar y el aumento de la urbanización del litoral.
En el mar existen entre 350 and 500 different species of these animals. Las que se observan más frecuentemente en nuestras playas son Chysaora hysoscella, Pelagia noctiluca, Rhizostoma pulmo y Cothilorhiza tuberculata.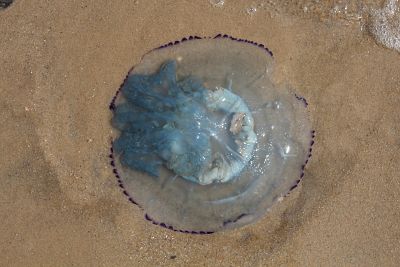 ¿ QUIENES SON Y COMO ACTÚAN ?
Las medusas pertenecen al grupo de los cnidarios

. (Word that comes from the Greek knidé, that means nettle). In this group we find polyps and jellyfish life free and with tentacles down. Its danger lies in the existence of stinging cells, so-called nidoblastos or Nematocysts.

Estos nematocitos son células rellenas de veneno que poseen un dardo o aguijón para inocularlo

, named nematocisto,

y un "gatillo disparador" llamado nidocilio que al entrar en contacto con la piel de la víctima

, free poison and cause damage.
Toxicity is influenced by various factors:
Health and age of the patient.
Weight of the animal.
Surface exposed to the bite and amount of toxin injected.
Skin thickness in exposed areas and site of the sting.
Species of jellyfish.
LOS PERROS SUELEN SUFRIR LA PICADURA DE MEDUSAS AL IGUAL QUE NOSOTROS !!
Dogs are an easy target for the jellyfish by its curious and playful character. Bites in them are as painful as in humans.
In principle, they are mprotected by their fur and their pads as Plantar and palmar, they are hard, impermeables y bastante resistentes. Sin embargo ellos tienen localizaciones más sensibles:
Truffle
Oral cavity

Cara interna de las orejas

Abdomen

Región inguinal

(

donde el pelo es menos abundante

).
Los síntomas que se presentan tras una picadura son DOLOR, ERITEMA, EDEMA Y PRURITO. Pueden aparecer pápulas. Los síntomas suelen remitir en unos días, salvo que existan complicaciones secundarias como por ejemplo infecciones.
En casos más graves pueden aparecer complicaciones sistémicas como agitación, cansancio, "crying" and even breathing difficulties (dyspnea).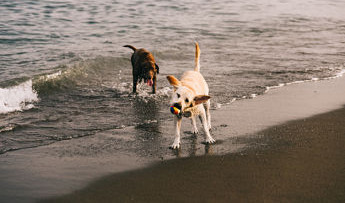 WHAT TO DO BEFORE A STING? ¿MÉTODOS DE ACTUACIÓN si le pica al perro?
Avoid as far as possible scratching, as well as the lamido of the areas where the bite occurred
Apply ice for 15 minutes avoiding direct contact on the skin of the animal (It should be wrapped with a towel). This is to cause the effect of local anesthesia by cold and, in this way, reduce pain.
Examinar la piel y el pelo en busca de restos de la medusa o de sus tentáculos

. Remove them wearing gloves

y aclarar con

salt water.
Do not rub the skin of the animal.
Can be washed with acetic acid to the 5-10% (vinegar) during 10-15 minutes.
Dry the skin and apply analgesic ointments (lidocaine or benzocaine), with corticosteroids or antihistamines to relieve the allergic reaction.
Raquel Miraz
Veterinary internal medicine Veterinary Hospital San Vicente