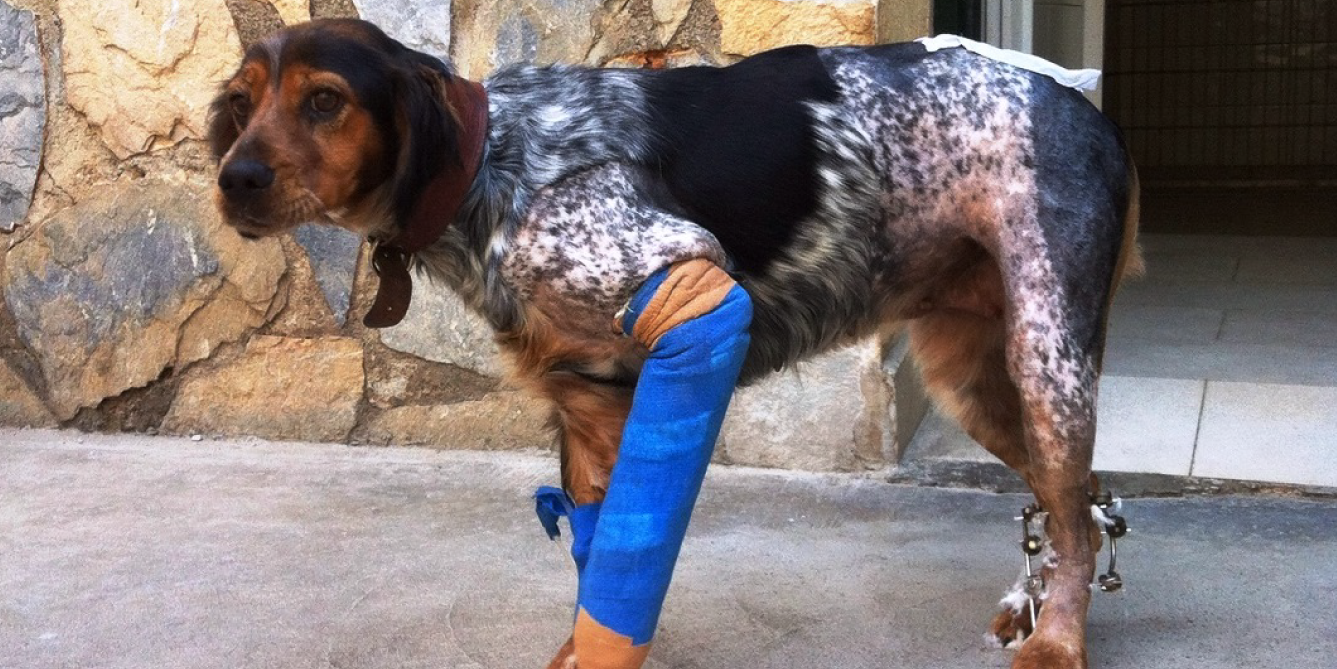 The Traumatology y ortopedia veterinaria han experimentado grandes avances durante los últimos años. Incorporated new techniques for the resolution of pathologies joint, así como materiales más evolucionados para implantes y adaptados a las necesidades de cada paciente.
How evolved the Traumatology and orthopedics??
Minimally invasive techniques, they have become part of the conventional methods of diagnosis and treatment. Arthroscopy allows to assess the inside of joints (knee, shoulder, elbow, Hip, Carpi, tarsi...) y establecer diagnósticos y tratamientos más precisos. Osteochondritis dissecans of shoulder pathologies, elbow, knee and Tarsus; bicipital tenosynovitis, fragmentation of the medial coronoid process, the lack of union of the anconeus process service, rupture of the cranial cruciate ligament, menisectomias, total, partial or meniscal release, se benefician de este tipo de técnicas.
Gracias a la dilatada experience de nuestros traumatólogos y a las técnicas avanzadas en diagnóstico por imagen, nuestro Servicio de Traumatology está altamente especializado en tratar lesiones del aparato locomotor de origen traumático, congenital the acquired, teniendo siempre en cuenta los aspectos preventivos, terapéuticos y de rehabilitation que puedan afectan al aparato locomotor.
Realizamos las técnicas quirúrgicas más avanzadas para la reparación de la rotura del ligamento cruzado (TPLO, TTA), also for hip dysplasia and other bone fractures. Dependiendo del tipo de patología se trata mediante inmovilización and tratamientos más conservadores o distintos tipos de surgery adaptada a cada problema.
The use of hip prosthesis, codo o rodilla han supuesto un gran avance para el tratamiento de lesiones crónicas degenerativas. Also by osteosynthesis techniques, external fixators, locked plates, injertos óseos o cemento óseo pueden emplearse para tratar las lesiones traumatológicas.
En nuestro centro ofrecemos Servicio de Rehabilitation and Physiotherapy veterinary medicine (link to physiotherapy of small animals tab), Depending on the pathology, a program of exercises and personalised treatment adapted to improve each patient's recovery. Pacientes que han sido sometidos a surgery y pacientes con lesiones crónicas que no han sido operados pueden beneficiarse de este tipo de terapias.
What are the most common pathologies?
Bone fractures
Arthritis
Arthrosis
Dislocations
Hip Dysplasia
Shoulder dysplasia
Elbow dysplasia
Muscle atrophy